Budget cuts are no problem - British film is best when it keeps it real
It might be derided as 'poverty porn', but social realism provides British film-makers with a poetic – and relatively cheap – way to make truly great cinema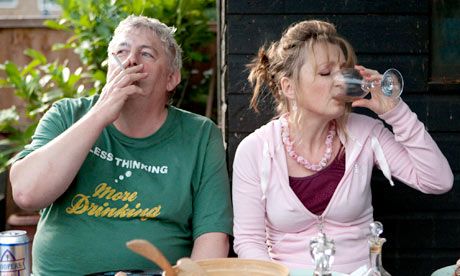 The sight of
Mike Leigh
and
Ken Loach
soaking up the plaudits at Cannes should have been omen enough. Then, with impeccable timing, came this week's sun-kissed announcement of the long-pending first round of government cuts, Tory chancellor George Osborne ushering in the new age of penury. For the observer of British cinema, these twin signs could mean only one thing: an imminent new wave of social realism, a gold rush of movies about dole claims, manky flats, smack habits and black eyes. I can see you wincing from here.
But personally, should such a thing arise, I'll welcome it. For one thing, in contrast to, say, the CGI-laden blockbuster, social realism has always been something British cinema is actually good at. Invariably cheap to make and enriched by the complexities of class, our eternal elephant in the room, it's been responsible for some of British cinema's most indelible movies ever since the kitchen sink era (in fact,
ever since the Boer war
), from the knuckle-hard
It Always Rains On Sunday
via the undimmed brilliance of
the late Alan Clarke
to the vibrant self-confidence of
Andrea Arnold
.
And yet there's still that persistent bad name: in certain eyes, the genre has become a byword for dreary poverty porn. Calling on some, if not all, the social realist party pieces (non-professional casts, dowdy small-town locations),
Shane Meadows
has slogged his way to a certain commercial reliability;
Shifty
, with its scuffed-up naturalism, pulled in a decent crowd. And, of course, Leigh and Loach have their audience.
But that, in terms of box office returns, is essentially that; no one in Britain has told it like they wanted to get rich.
But pinning importance on financial rewards is beside the point; it reinforces the bogus idea that it's indulgent to make films about anything resembling ordinary life. As for the poverty-porn rap, well, don't forget that what appearsimplausibly grimy from one point of view is, from another, an everyday reality. (It's also a shame we don't have better films about the middle class – where's the British
Claude Chabrol
, eh?)
But the other problem with dismissing the council flat and local park as film locations is that you miss some of the most beautiful and potent images our film industry ever produced. Because, for whatever reason, in a country whose cultural identity is so often riddled with hand-me-down Americanisms, social realism allows British film-makers to ascend to true greatness, whether via the south London rainscapes of
Gary Oldman's majestic Nil By Mouth
or
Bill Douglas's haunting trilogy of childhood memories
. Perhaps the grittiest realisms could use a little light rebranding, granted – but even when money's tight, surely there should be a place for poetry ..