We've already seen many big name film directors produce and/or direct work for the small screen, not least Steven Spielberg and, recently, Martin Scorsese (with the excellent HBO series
Boardwalk Empire
). Now its the Coen brothers' turn, with an unexpected TV series of their early hit movie
Fargo
. Studio MGM has announced its intentions to use its back catalogue of films to spin off several new TV series over the coming years - see
the article below
for further details.
Coen brothers developing Fargo TV series

Joel and Ethan Coen to bring Oscar-winning film to the small screen, continuing the story of police chief Marge Gunderson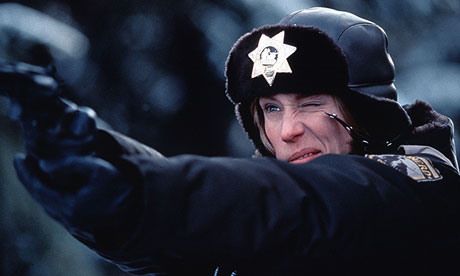 The Coen brothers are to bring their Oscar-winning film Fargo to the small screen, Deadline reports.
Fargo
Production year: 1996
Country: USA
Cert (UK): 18
Runtime: 97 mins
Directors: Ethan Coen, Joel Coen
Cast: Frances MacDormand, Frances McDormand, Peter Stormare, Steve Buscemi, William H Macy, William H. Macy
Joel and Ethan Coen will oversee the TV series, which will be in the one-hour episode format, as executive producers. Fargo, which was released in 1996, marked an early foray for the siblings into Academy award-winning territory: the Coens won best original screenplay and Frances McDormand was named best actress for her role as pregnant police chief Marge Gunderson. The film was also nominated in a further five categories.




The Fargo TV show is part of studio MGM's plan to adapt properties it owns for the small screen through MGM Television. A previous attempt to produce a Fargo show took place in 2003, with The Sopranos' Edie Falco starring as Gunderson. It never got beyond a Kathy Bates-directed pilot, and did not have the blessing of the Coens.




In the Coens' original crime caper the taciturn Gunderson is charged with investigating a homicide after a local car dealer with money problems (William H Macy) hires two hapless goons (Steve Buscemi and Peter Stormare) to kidnap his wife as part of a ransom scam. The film is set mostly in North Dakota, which is populated largely by the descendants of Scandinavian and German settlers.




Gunderson is expected to once again be the main character in the TV series, which will be written and executive produced by Noah Hawley, creator of The Unusuals and My Generation.