If you read
the article on Bangladesh recently lifting, then putting back in place, their ban on Indian, Bollywood movies
, you find a useful example of a small nation fighting to avoid being dominated by a much larger, economically powerful country (an example of cultural imperialism being resisted).
Read the article and, where it says Bangladesh, read the UK... [excerpt:]
Bangladesh's near-four-decade-old ban on movies from Bollywood has been reinstated after the commerce ministry's decision on Saturday to lift the injunction, in an effort to boost the country's struggling cinemas, was greeted with furious protests by local actors and directors.
Films from India have been proscribed in Bangladesh since 1972, the year after the country's independence, to protect the local film-making industry. However, the number of cinemas has fallen from 1,600 a decade ago to 600 this year, a decline which cinema exhibitors attribute to poor-quality homegrown films failing to draw viewers. At the same time, Indian films are hugely popular in Bangladesh and locals can get their Bollywood fix on cable TV and through pirated copies which circulate widely.
"Film enthusiasts can easily see good Indian films on cable television so why should we stop Indian films being screened in our cinemas?" Kazi Firoz Rashid, president of Bangladesh Cinema Halls Owners Association, told AFP.
"By contrast, the standards, scripts and production of Bangladeshi films are so stale and poor they have trouble winning hearts or making enough money," he said.
Should Britain ban Hollywood? Would this transform the fortunes of our film production companies? Or are we just too tightly tied into the US film industry to be able to go it alone? [If you read any history of UK cinema you'll find that there have been times when limits were placed on US films being screened, and/or a minimum number of UK movies set for cinemas...which Hollywood got round by producing ultra-cheap movies in the UK. This was as recently as the 1980s, when Thatcher ended the policy]
This article on Sacha Baron Cohen's latest deal
is an illustration of why UK producers simply can't compete with the lavish scale available to Hollywood:
The Borat and Brüno creator's new comedy, where he plays a goat herder and a deposed dictator, has been snapped up in a lucrative deal after a bidding war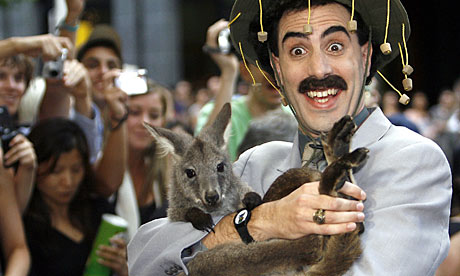 It's the quirky tale of a British comic, a Hollywood studio and a rare $20m offer to shoot a new movie. Oh, and don't forget the goat.
According to the Deadline blog, Sacha Baron Cohen's next movie has been snapped up by Paramount in a lucrative deal which instantly catapults him into the ranks of Hollywood's biggest stars. It will see the comedian play the dual roles of a goat herder and a deposed foreign dictator who finds himself lost in the US.
Paramount reportedly sealed the deal by sending a real live goat dressed in a studio T-shirt to Baron Cohen's LA home, after offering him a "20-20" deal. A rare phenomenon in an increasingly straitened Hollywood, this would give him $20m (£13m) upfront and an initial 20% share of the new film's gross, rising to 30% if the movie is successful.
The concept of films, and a film industry, being crucial for a nation's sense of identity and pride in itself can be seen with
the tale of the record-budget $55m Russian movie that flopped
. Seen as just too closely linked to the Russian government, the movie, and particularly its high profile director, lost credibility with the Russian public, and has initially taken a feeble $2.5m despite the nationalist narrative, portraying a Russian WW2 victory over the Nazis. [excerpt:]
The premiere took place inside the Kremlin. Russia's prime minister, Vladimir Putin, did not manage to turn up. But Mikhalkov's fervent support for Putin and his strong Russian nationalist views are well known.
The film has many virtuoso setpieces but sticks closely to the Kremlin's approved version of the war: as the heroic Soviet triumph over Nazi barbarity.
This fact appears to have put the public off: the film has played to near empty halls, with box office receipts of just $2.5m from its opening weekend. Burnt by the Sun 2 cost a record $55m to make.
"The reasons it has flopped are psychological [not artistic]," critic Oleg Zolotarev said. "Mikhalkov is no longer seen as a director but as a state bureaucrat."